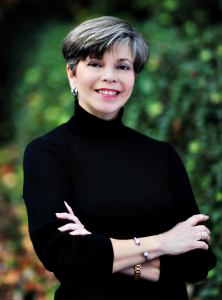 Can I be blunt? If we were meeting in person, I'd be much more interested in hearing your story than in talking about myself, so just let me hit the highlights.
I spent the first half of my career founding and building what became one of Atlanta's top 50 ad agencies. With clients up and down the east coast, from Canada to the Caribbean, I was on an airplane week in and week out, working on exciting projects with amazing clients. I loved (almost) every minute of it!
Scene change. I met my match at a party called Serendipity (how's that for branding?), got married and wow! A few years later, the stork made a surprise stop at our house. No more Road Warrior lifestyle for this gal. I sold my interest in the agency, took advantage of technology's latest tools and as they say, the rest is… well, history still in the making.
Now, I balance my work between a limited number of clients – some I've worked with for over 20 years – mostly multi-taskers who face the daily challenges – and rewards – of running their own successful careers right along with juggling everything else that being a woman today entails. Oh, and I have a couple of sites I'd love to share with you at Multi-TaskingWoman.com and Kyle Young Artist, where you can see what's going on in m Studio!
It's a life I love, working with people who've become fabulous friends, helping each of them define and achieve success on their own terms. Creating art, story and helping successful women entrepreneurs reach the goals that THEY set for themselves!
That's the quick version, but if you're one of those people who like details, I'm happy to share. Just keep on reading…
Awards… we have a few.
Over 66 received throughout my career, in fact. From a national ADDY (the ad biz version of Oscar) right on down the line. For creativity, design and execution. From ad campaigns to interactive environments. The most important part, though, is that the the vast majority were awarded in competition because they were effective ideas  – each put into action to create results!
Clients… we'd like to mention.
Pardon me if I name drop? It's been my great pleasure to partner with some pretty amazing clients through the years. From large corporations, to small businesses, and more than a few non-profits. I guess I'm the proudest to say that our relationships have been long, fruitful and most enjoyable on both sides of the table. That's why most of us have hung around together for so long. Just to mention a few:
WellStar Health System & Hospitals
Perimeter Community Improvement Districts
The Benefit Company
Cousins Properties
Galloway Consulting
Atlanta Educational Consultants
Kennesaw State University
Concentric Health
Georgia Heritage Bank
Longleaf at Callaway
Corcoran-Ota Group Architecture & Design
many other large companies up and down the East Coast
and a great many entrepreneurs who created very successful businesses!
[/collapsible_item]